In recent years there has been a tremendous change in the surgical methods with the development of newer and advanced minimally invasive techniques such as laparoscopic surgeries.
Dr. Harsh Sheth, a well-known bariatric surgeon in Mumbai, advocates minimally invasive surgical modalities as it aids in faster surgery with better outcomes.
He says that the evolution of newer and more advanced laparoscopic systems such as 4K ultra-HD monitors and energy devices have enabled almost all surgeries to be performed laparoscopically, such as laparoscopic pancreatic and liver surgeries.
Dr. Harsh Sheth, a leading laparoscopic & bariatric surgeon in Mumbai, also excels in advanced laparoscopic GI, HPB, hernia, abdominal wall reconstruction, and splenectomy.
Before discussing advancements in laparoscopic surgical equipment, let's first understand laparoscopic surgery.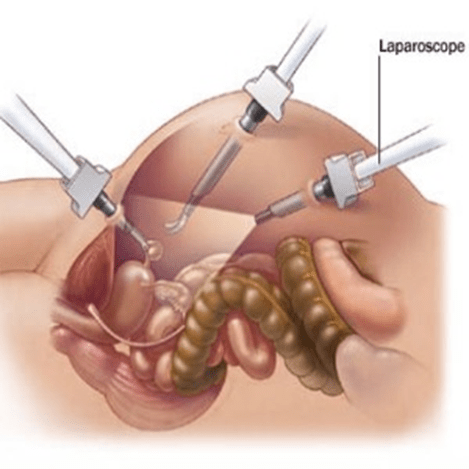 Laparoscopic surgery, also called keyhole surgery, has mostly replaced conventional abdominal surgeries that require 6 to 12 inches long incisions. Surgeons use a laparoscope to perform the surgery, a thin, lean instrument with a light and small video camera on its tip. Various surgical equipment and the laparoscope are inserted into the abdominal wall through tiny incisions which are only a few millimetres long to perform the surgery while monitoring it on a screen.
There are a number of benefits, including smaller incisions, lesser pain, fewer complications, shorter hospital stay, and quicker recovery.
Today, several conditions and disorders can be treated using laparoscopic surgery, some of which include:
Gallbladder procedures
Abdominal surgeries
GI surgeries
How is the evolution of laparoscopic surgical equipment improving the outcome of procedures?
Compared to open surgery, laparoscopic surgery offers a number of intra and post-operative benefits such as reduced post-operative discomfort, better cosmesis, and a quicker recovery.
The introduction of new technologies has made laparoscopic surgery faster and safer. A significant factor in developing such techniques is the quality of digital imaging.
The link between visual quality and surgical results is highly significant. Enhancing image quality enables laparoscopic surgery's sharpness to be completely realized. Dissection accuracy can be aided by having a clear view of the anatomic structures.
Additionally, better tissue definition and more precise visualization of vascular structures may reduce intraoperative bleeding and shorten the surgical procedure, minimizing the patient's surgical stress and lowering the risk of complications.
Laparoscopic surgeons now have access to various sophisticated imaging tools, including three-dimensional HD stereovision and high-resolution two-dimensional 4K monitors.
Laparoscopic surgery commonly employs HD systems, but 4K monitors are primarily found in multi-specialty hospitals with cutting-edge technology.
4K ultra-HD's higher resolution video helps improve surgical outcomes by providing enhanced depth perception, dissection accuracy, and bleeding reduction.
Ways in which 4K monitors and cameras are revolutionizing laparoscopy surgery
No pixel visible
Full HD monitors can be highly distracting when viewed up close and result in hazy images due to their vast pixel size.
Surgeons may not be able to distinguish the individual objects in their field of vision if this type of monitor is utilized when performing surgery on tiny blood vessels with micro sutures.
With the help of 4K monitors, surgeons can see inside a patient clearly, making it possible for them to place their instruments where they are intended to go and avoid unintentionally doing any harm. Stitches and blood vessels that were hazy in full HD would be more evident in 4K resolution since it has a four times higher density than full HD when utilized on a monitor of the same size.
Greater visibility and perception of depth
Due to the limitations on visibility imposed by minimally invasive surgery, the ability to perceive depth and picture clarity is affected.
Utilizing a higher pixel density 4K display with a 4K camera will help you recover some of the visibility that has been lost. Improved clarity enhances depth perception.
What are the advantages of laparoscopic surgery?
Laparoscopic surgery has several benefits over earlier, conventional surgical techniques.
Quicker healing as cuts is small.
Shorter stay in the hospital. In open surgery, the patient had to stay a week or more in the hospital, and the recovery time was 4 to 8 weeks. But in laparoscopic surgery, the hospital stay is only for a couple of days, and the recovery time is 2 to 3 weeks.
Less pain, so the need for painkillers also decreases.
Faster return to your regular life.
The chance of infections decreases with less internal organs' exposure to external pathogens. 
What are the disadvantages of laparoscopic surgery?
Even though a patient can benefit significantly from laparoscopic surgery, there are a few drawbacks, including the following:
Tiny scars allow the surgeon to have restricted movement.
As the surgeon does not feel the tissue, they may be unable to determine how much force to use.
It is hard to master non-intuitive motor skills.
Advanced minimal access surgery is the most preferred surgical modality nowadays. You can consult Dr. Harsh Sheth for laparoscopic surgery in Mumbai. He is highly qualified and experienced in this surgical method.